Want Qualified Leads From the Internet?
This article is the complete guide to attracting qualified leads for your professional practice.
There are numerous steps. Click the link below to take you to the relevant section for your situation:
I need business: When Word of Mouth is No Longer Enough
 
1. When Word of Mount is No Longer Enough
You've been relying on your friends and your happy clients to spread the word about your practice. But what happens when your word-of-mouth referrals dry up?
This is the fear of every professional who relies on referrals.
Fortunately, the internet has made it possible for us to get clients another way, without relying too heavily on referrals and without paying for expensive advertising in print, on billboards or on TV or radio.
Internet marketing – or digital marketing – allows you to both better target their marketing efforts and to handle these efforts ourselves, if we're willing to spend the time.
There are only four ways to get found on the internet:
search – people look for your service or your business name or your name
referrals – someone on the internet tells someone about you
directly – people know you already
through social media.
Though this might seem intimidating it's really no different than marketing offline. In fact, it's easier and less expensive than marketing offline.
This guide covers how to market your business online. But, for most people to do so, first you need a website:
Do I Need a Website?
Everyone tells you that your business needs a website, don't they? And the truth is, they're probably right.
Am I Getting Enough Business?
The first question you should ask yourself is, are you getting enough business offline? Are you getting enough business from the following sources?
referrals
offline advertising (flyers, direct mail, billboards, Yellow Pages, radio and TV ads)
walk-ins.
If the answer is "I am getting enough business," then maybe you don't need a website. But, if you are planning for the future, it's still worth thinking about getting a website. I suggest reading my post about referrals as the source of your business to see if you can subsist on them.
Am I Happy with My Knowledge About My Clients?
The other major question to ask yourself before you build a website is, "what do I know about my clients?" and "do I want to know more about my clients?" For example, would you like to know more about
who your clients are
what your clients do for a living and for fun
where your clients are from
why your clients chose your business
how your clients found your business.
Because the other advantage a website will give you is it will give you the ability to learn more about your online clients than you have ever known about any of your offline clients.
You should ask yourself these questions before you hire someone to build your website because, just because everyone else has a website, doesn't mean that every single company needs a website. (Look at key cutting services – they don't have websites.)
What Type of Website Do I Need?
So, you're putting your business online, by building a website. But you're not sure where to start. There are different types of websites and there is too much information online about the different types. What do you do?
All websites are not created equal. This post will explain what type of website you should have, depending on your business needs.
There isn't just one kind of website. There are, for our purposes, at least three kinds of websites:
out-of-the-box sites
CMS sites
Custom sites
You can think about these three types in ascending order of complexity. Unless you plan on making all sorts of changes to your site all the time, you likely just need the out-of-the-box variety.
Out of the Box Websites
In the last few years, a new type of website has emerged allowing people with zero knowledge of website design and coding to create their own websites. These are known as "out of the box" websites because they are pretty much ready to use after you purchase them. Here are the major providers:
Who Should Use an Out-of-The-Box Site Creator?
If you just want a webpage for your business, say you just want a place for people to look you up, or find your contact information, this is for you.
If your business provides a product or service that is easily presented in pictures, I'd recommend Squarespace.
These sites even support e-commerce so if you are planning on selling items on your site, but you don't want to make many changes to your site, this is also a good option.
However, if you want access to the "back end" of your site, or you want to customize elements of your site, these services are not for you.
Content Management System (CMS)
The most common type of website currently is a CMS or Content Management System. A CMS is software for a website that allows you, the average person, to do things to your website that used to require a coder or a designer, or both. The three most common CMSs are:
All three of them are written in PHP, which is a programming language for the web. That's not seemingly something you need to know, but there are different web languages and the advantage of these being written in the same language is that, theoretically, your site can be moved easily between them.
WordPress Above Everything Else
Though all three CMSs have their supporters and detractors and their pluses and minuses, Wordress is the most popular which has some distinct advantages, namely that you will be able to find templates and wordpress-centric designers and coders for WordPress much more easily than for the other two.
The short of it is: When in doubt, choose WordPress.
Drupal and Joomla are good for certain specific requirements, including very large sites, among other things, but are unlikely to be necessary.
Anyone can set up a WordPress site, just like anyone can set up an out-of-the-box website, there are a couple of extra steps with WordPress, but they are way easier than you'd think.
Custom Sites
It's hard to come up with a reason, at this point, why you should pay someone to create a custom site for you.
If you need something really, really specific – say, a completely customized checkout process that meets security standards imposed upon you by regulatory body – you might (I stress might) need a fully customized site built from scratch.
But most of the most successful companies on the internet now use CMSs for their websites for the same reason small business owners should: a CMS removes the need for a developer on staff.
So if you are thinking of hiring someone who is offering you to build you a website, do not go the custom route without making sure you really, really need it. (This is especially if that person or company offering to build you a custom website is offering you a deal to build your custom site. They're doing this specifically because they know a custom site will keep them employed after the site is built.)
Conclusion
When it doubt, go with a CMS. Really, when in doubt, go with WordPress. If you have specific needs use Drupal or Joomla. Or if you are really, really uncomfortable online, then use an out-of-the-box site creator. Don't go custom.
Buying a Domain
How to Buy a Domain
What is a Domain?
Before you put your site online, you need to purchase a domain. A domain is the url for your website. The domain of this site is https://rileyhaasmarketing.com and I own it (though "rent" is probably a better word for my relationship to the domain name). It's the thing you type in to get to your website. It's the name of your site online, in many ways. Your domain name is ideally yourbusinessname.com (or .ca for Canada).
Purchasing Your Domain Name
But you shouldn't get depressed if you cannot get your brand as an exact URL. If your business is Canadian ABC, you should not be upset if someone else already owns canadianabc.com, canadian-abc.com, canadianabc.ca and canadian-abc.ca. That's because "exact domain match," (when your business name and your domain are the same) is less important than it used to be. It's good to be as close as possible, but it's also not the end of the world. If you do a good job of marketing your business online, your domain name will be insignificant.
In order to purchase your domain, you must do the following:
Pick the name of your url, and be sure to list variations:

canadian-abc.ca, canadianabc.ca, canadian-abc.com, canadian-abc.ca, canadianabc.business, etc. (There are now hundreds of different top level domains and you can get clever and try something like canadian.business.)

Go to a trusted Registrar to see if your desired domain is available. There are tons of registrars and many of them are equal while others are not great. I would recommend Go Daddy (yes, seriously) as a good place to start for beginners as they make everything very simple and offer very competitive prices. Here are some things to keep in mind:

Your domain is available through the Registrar (.ca domains are not available through American-only registrars, for example)
They will not charge you more than USD$15 per year for your domain
They let you purchase your domain with out purchasing additional services (such as hosting)
They let you upgrade to additional services (such are privacy protection) for a nominal fee (i.e. they do not rip you off for additional services)
This may take some time and price comparisons.

If they are reasonable, create an account and purchase your domain. You should purchase your domain for as long as possible.
That's it! Now that you have a domain, it's time to purchase hosting.
How Much Does a Domain Cost?
Don't Pay Lots of Money for a Domain
I wanted to buy a domain today. I found that both the domain I wanted, 123.com let's call it, and a variation, the123.com, appeared to be available. The former was for sale from a brokerage, the latter through any registrar.
Though I'm perfectly content with the123.com, I contacted the domain brokerage out of curiosity, to see how much it would cost. I was expecting a silly quote, in the $100s, possibly even in the $1000s. Instead, I got this reply:
Hi Riley,

My name is [redacted], and I am a Broker with [redacted].com. I represent the current owner of [example: 123.com].

I was able to speak with the seller and based on many criteria they have determined a value of $95,000.00 USD.

If you have any questions, please let me know.
I laughed out loud – seriously – and nearly fell off my chair.
What did I find so funny?
Well, I was laughing at the idea that anyone in the world – especially an individual but even a large company – would pay 5 figures US (6 figures Canadian!) for a domain name in 2018. Now, I don't doubt that there are people out there who would do this, but they are foolish.
Why?
Your domain name does not determine your traffic to your website.
Sure, it's helpful for branding to have a domain name that is exactly-your-brand.com, and there is a very minor SEO benefit, but if your domain isn't an exact match, it's hardly the end of the world.
Websites succeed with different urls all the time, and there is now a trend of getting cute with your url, such as the podcast platform tryca.st, to pick but one example.
The point is that your exact url does not matter all that much and so many other things do, so to spend 10s of 1000s of dollars on a url is bonkers.
What is perhaps more bonkers is that this brokerage thought that a random person contacting them could be bilked into spending that much money on a url. It suggests that there are still many people – and companies, no doubt – who are foolish enough, or rich enough, to think that paying US$95,000 for a domain name is a good use of money.
It's not. Don't do it.
Purchasing Hosting
Buying your domain is not the only thing you must do in order to get a website up. Many people are confused between purchasing a domain – the name of your site – and purchasing the server space to host your site, known as hosting. There is basically one rule for purchasing hosting:
Purchase Your Hosting from a Hosting Provider, Not a Registrar
Your Registrar will likely make it very easy for you to purchase hosting. Many registars now offer hosting packages in addition to hosting. The important thing to know is that some companies are registars first, and hosts second, and some companies are just hosts (or hosts first, and registars second). You want to purchase hosting from a company who started as a host, because they will be hosting experts. Registars are not normally hosting experts. There may be exceptions – GoDaddy appears to do both fairly well – but, for the most part, using your registar to host your website is a terrible idea. You will have all sorts of technical problems – including downtime.
Hosting Costs
You can expect to pay anywhere between CAD$4 and $20 per month for hosting. The amount you pay depends upon:
the host you purchase from (not all hosts are created equal)
the amount of server space you purchase (after all, this is what you are paying them for), and
the additional services you purchase (for example, some hosts charge for email services).
Both Dreamhost and Siteground, the hosts I use, are not the cheapest but among the most reliable, which is what you want. Speaking of which:
Downtime
The most important issue with hosts is "downtime," which is the amount of time in a given year that your site's server is "down" (i.e. not working). You should judge a host primarily not on cost but on how often it's down. Hosts will (and should) publish their downtime information. You want a host which is "up" 99% of the time or more. If the host doesn't tell you it's average downtime/uptime, do not purchase hosting from this company.
Recommended Hosts
If you are setting up a WordPress site, there are hosts specifically dedicated to hosting WP sites. Here are some great ones:
Who Should Build Your Website
Once you have decided what type of website you should have (choose a CMS like wordpress!), you need to decide who is going to build it.
If you are using an out-of-the-box website builder, you may need no help, especially if you yourself have an eye for design. (If you do not have an eye for design, you should get help.)
If you are using a CMS, you may or may not want to get some help, depending upon your expertise level. If you are okay with your website looking like this one you are on right now, you don't need a designer, you can just buy a template. But you may want or need help setting up the CMS.
If you are getting your site custom built you will need two things, a design specifically for the web and a development team.
Here's a handy chart:
| What You Need | Out-of-the-Box Site Creator (Jimdo, SquareSpace, Weebly, Wix) | CMS (Drupal, Joomla, WordPress) | Custom Built |
| --- | --- | --- | --- |
| Design | Not required, unless you are uncomfortable designing your site. But if you are, hire someone who has designed specifically using your site creator. | Purchase a theme template. If you want more of a customized look, you can do it yourself, but you may want to hire someone with experience changing a template. Custom designs are not a great idea. | You must have a designer familiar with designing specifically for the web. |
| Coding/Development | Not required | Only required for customizations (not recommended) | The only way your site is getting online is if you have a development team |
One last piece of advice before we move on to the specifics: do not hire a designer to code your site and do not hire a coder to design your site. Under no circumstances. People will tell you they can do both. In most cases, they are lying to you.
Who Should Design Your Website?
Unless you are using an out-of-the-box website creator, or a CMS template you find is perfect for your needs, you likely need a web designer. But there are a few things you need to consider.
Who Should Design Your Website?
The first thing to think about is, what type of site are you building? The type of site you are building should determine if you need a designer and what type of designer you need.
Out-of-the-box Site Creator
If you are using an out-of-the-box site creator, such as
Jimdo
Squarespace
Weebly
Wix
then you do not normally need a designer unless you do not like the template or you feel, like I feel, that your design skills are so bad that you would prefer someone arrange your template for you.
If you do want a designer, you should look for someone who has previous experience helping people with these templates. The last thing you want is someone who is going to create a beautiful picture for you which cannot be realized in your template. So do not hire someone who has pretty work but has never used your platform to create anything.
CMS
The point of a CMS is to use the pre-existing templates. However, sometimes those templates don't quite look quite right or sometimes you don't even want to set up the template yourself.
If this is your situation you want a designer who is comfortable customizing templates. In this case, and this case alone, that person might actually be a coder/developer. Just like with the out-of-the-box scenario, the last thing you want is someone who is going to create a design from scratch which cannot be realized in your template.
Make sure you've selected or purchased your template first, OR hire a designer who has templates they use (for your CMS), and don't just hire someone because their work looks pretty.
Custom Site
If you must build a custom site, you must make sure you hire a designer who can design for the web. Usually, the company you've hired to build your website will have both designers and developers on staff. Make sure that's true before you hire them! If you are working with one person to developer your site, know that this one person likley cannot be relied on to design it first. Designers and coders are not the same! Just because a designer says he can code doesn't mean he's a good developer. And just because a coder says she's got an eye for design doesn't mean she can design. Do not hire one person to do both! Ever!
Getting a Programmer for Your Site
You may or may not need to hire a developer for your website. Just like with your site design, who you hire (and whether or not you hire anyone) depends a great deal on the type of site you are building. So let's breakdown if and when you need to hire a developer/programmer/coder (they are one and the same) for your website.
Out-of-the-Box Websites
If you are building a site using one of the following website builders, you do not need a developer:
Jimdo
Squarespace
Weebly Wix
The whole point of these site builders is that you do not need a developer to build a website.
Yes, it's possible to add some custom HTML to these sites but, if you are thinking of trying to further customize your site, you really should change your website to a CMS.
Content Management System (CMS)
If you are using a CMS, such as Drupal, Joomla or WordPress, you may or may not want a developer. There are two things a developer could do for you in the case of a CMS site:
Installing and setting up your site
Customizing your theme and other aspects
You should hire a developer for the first step if you are unfamiliar with installing the CMS on a server and setting up your theme. It's more likely you'll need a developer if you are using Drupal than if you are using WordPress. WordPress you can set up yourself, if you are willing to spend the time.
But hire a developer if you are not sure what to do. You need to make sure the developer has the following skills:
PHP coding experience (the code these CMSs are based in)
CSS (design and styling language)
HTML (the basic building block of the internet)
The customization of your site is a very, very different question: Normally, you should not overly customize a theme beyond making basic changes to its design (so that it no longer looks like a generic theme). The whole point of using a CMS is to not have a customized site. If you hire a developer to add customized PHP (or Javascript) to your theme, you will need a webmaster going forward, which is an expense you don't necessarily need if you don't customize the theme.
Custom Sites from Scratch
If you are building a site from scratch, you need a developer unless you know a programming language well enough to build a functioning website. But, as I've written elsewhere, you do not need one of these custom sites.
Additional Features for Your Website
I think it's natural to want all sorts of bells and whistles for your website. When we're online we see all sorts of neat widgets and tools on other websites and think how great our own website would be if we just had that extra touch, if we just had that custom program that lets our clients solve their problems.
But there's a huge problem with this and that is: custom coding requires maintenance. And it is best if the person who maintains the code is the person that built the code, meaning that your expensive developer who you hired to build your site also has to be on call to fix anything that breaks. This is a bad idea. People who build sites usually don't want to be webmasters. But, far more importantly, the most custom code you have, the more problems you have. And the more problems you have, the more money you spend.
So here is an easy way of deciding if you need some custom work: will your business function without it? If the answer is yes, then don't get the custom code work done.
Another important thing to remember: if you want a feature on your website, chances are someone else wanted to have that feature already. If a similar widget/app/tool exists already, you might be able to embed it on your website instead of getting something custom built. Often you can embed such tools for free. So, unless it's easily embeddable into your wordpress site, don't bother with.
Launching Your Website
There are a number of steps you need to go through in order to launch your website, including building your website, uploading it to a server and ensuring that it can be "indexed" (found) by the search engines.
You can approach launching your website on a spectrum from a bare-bones approach to the most thorough approach. Let's see how those approaches compare:
| | Bare-Bones | Thorough |
| --- | --- | --- |
| Site Builder | Out of the Box | CMS or Custom Site |
| Design | Template | Custom Design |
| Coding | No Custom | Some Custom to Lots of Custom |
| Domain Purchase | No Difference | No Difference |
| Hosting | Out of the Box Site Builder hosts site | Purchase hosting |
| Installing site | Out of Box doesn't require it | Upload to server |
| Site Map | Auto-generated | Custom |
| Indexing | Bare minimum effort | Actively submit to search engines |
| Traffic | Wait and see | Aggressively drive traffic |
The short version is that you can pay a small fee to an out-of-the-box site creator to have a webpage online, where you essentially do everything yourself, you can get a blog and a small store, or you can have a large website with a store and lots of other features. Where you fall on this spectrum depends upon the needs of your business and the competition in your industry. My hope is that by reading this guide, you can figure out where you sit in the spectrum.
Do I Need a Webmaster
Or: How to Perform Maintenance on Your Website
There was a time when every person or business with a website needed a webmaster, unless you built that website yourself (i.e. you knew what you were doing).
But times have changed. You do not need a webmaster who works for you full time or even part time. Depending upon your website, you either do not need a webmaster or just need someone you can call periodically.
Do I Need a Webmaster?
| Type of Site | Do I Need a Webmaster? |
| --- | --- |
| Out-of-the-box site creator (Jimdo, Squarespace, Weebly, Wix, etc) | No |
| WordPress | Depends upon your time level and expertise level |
| Drupal or Joomla | Depends upon your time level and expertise level |
| Custom built site without CMS | Yes |
If you use an out-of-the-box site creator, you should never need to employ a webmaster. If you have trouble, these companies provide support.
If you use WordPress, you can learn the basics and rarely or never need a webmaster. (I can teach you how to use wordpress.) However, if you have custom code on your site, or if you do not have the time, it is useful to have someone you can call.
The same is true if you use a more complex CMS like Drupal or Joomla: anyone can learn how to run these sites but the most custom code you have, the more likely you need someone you can call.
Finally, if you have a site without a CMS – i.e. you live in the internet dark ages – you need a webmaster unless you yourself built that site.
How to Create a Sitemap
Before you let the search engines index your website, you should be sure to create not one but two sitemaps. A sitemap is essentially a directory of pages on your website. However not all sitemaps are created equal: you need both a sitemap for the search engine and a sitemap for the user.
Sitemaps for Search Engines (XML)
The most important site map you need is for the "bots" which "crawl" your website: Google and the other search engines send robots around the internet indexing websites so that they can appear in the search results. When you go click on a link in google, that page has been "indexed," i.e. put in Google's giant directory. It makes it a lot easier for Google to index your site (put it in Google's directory) if you provide Google your own website directory. This is called a sitemap.
Sitemaps for the search engine robots use a language called XML so these sitemaps are called "XML sitemaps." Depending upon what type of site builder you are using, there are different ways of creating one such xml sitemap:
If you are using an out-of-the-box site creator, such as Jimdo, Squarespace, Weebly or Wix, the sitemap should be created for you
If you are using WordPress, there are lots of plugin options! Just type "plugin" into the "Add New" search feature
If you are using Drupal, there are lots of modules
If you have had your site built from scratch, you will need to pay your webmaster to do it or you can use a sitemap generator such as this one.
If you have a particularly large website, you will need sub-sitemaps (i.e. sub-directories) so that the sitemap itself isn't too large.
Once you have an xml sitemap, this is only half the battle. Users need a sitemap too.
User Sitemaps
The average person does not want to read an xml sitemap. Here's my highest level sitemap. It's not exactly user-friendly. You should have one for your visitors. It's unlikely many people will use this sitemap these days, as Google does such a good job of indexing, but it's considered a basic courtesy. If you don't have a user sitemap, all other things being equal the search engines will treat your site worse. At this point, having a user sitemap is just standard practice.
To create one,
Just open up your XML sitemap and make a list of all the pages.
Create a new webpage with this list on it
Link each page on your site to your list.
That's it! You're done. Now you have sitemaps for the indexing robots and your users. You're one step closer to launching your website.
Ensure Your Site is Indexed
The whole point of having a website for your business is so that customers using the internet can find your business.
Customers can find your business one of a few ways:
ethey put your address into their browser (i.e. they already known your site address and want to go there)
they click on a link from another site to your site
they click on an ad you have paid for to your site
they put your business name or a keyword related to your business into a search engine.
In order for customers to find your website through the last option, your site must be in the directory of the search engines, i.e. indexed.
In order for you go get links from other sites, usually those other sites have to find you and think your site is valuable, and so your site must be indexed for this method as well.
In order for someone who has never been to your physical business to put your url into their browser, it's a safe assumption to think that they may have already heard about you some way, so you want your site to be indexed for this reason as well.
How to Get Indexed
DO NOT listen to those scam emails you are going to get from various scammers, asking for money to index you. That's not how this works. You do not have to pay to get your site indexed. Ever.
If you are using an out-of-the-box site creator, the act of publishing your site will usually get it indexed.
If you are using WordPress, you can turn indexing on or off (though this is just a suggestion).
If you are using a larger CMS, they also have options to turn indexing on or off.
If you are unsure, just ask your developer to make sure your site is indexable or, if you are feeling tech savvy, check your robots.txt file.
Is My Site Indexed?
Especially with brand new sites, or small sites, it's going to take some time for your site to appear for the keywords you want it to. (Depending upon the quality of your SEO, this might never happen.)
You can check to see whether or not your site is indexed in a couple of different ways:
Check using google search
Check using Google Site Manager (formerly Webmaster Tools)
Check Index Using Google Search
To search to see to what extent your site is indexed, go to google.ca or google.com and type in the following: "site:yourdomain.ca" The results will show all the pages Google has indexed.
Check Your Site Using Site Manage
If you have a site manager account (and you should) you can check whether your site is indexed or not based upon your sitemap or just by manually "fetching as google."
Check Duplicate Content
Figuring out what to have on your website can be tough. There's the easy part: home page, contact page, product/service pages. But then what else do you have?
he answer to that question is part of the strategy of Content Marketing. This post is not about Content Marketing, however, but just an introduction to one of the fundamental mistakes a website owner can make: duplicate content.
When launching your website, you want to make sure that you have enough content related to your business that potential clients will find your site. How to do that is covered elsewhere. Here I just want to talk about what not to do.
Certain pages on your website are going to be pretty unique:
your homepage should be an attractive place for your potential clients to find you,
your contact page should contain all the many ways – address, phone, email, fax, social media, text – that people can contact your business
your about page should tell your company's story.
But what do you do about your service or product pages, where the easiest thing to do is create a template and reuse it?
And what do you do about a blog? Isn't the easiest thing to do to hire someone cheap in India to do it for you?
There's a temptation for the small business owner to use templates or to use cheap labour to create tons of content for their site. There is one thing you need to keep in mind before creating content, especially if you are using templates: your content must be unique.
When I say "unique" I don't mean 100% unique. What I mean is that it must be different enough from other content to unique in the eyes of Google and other search engines. What we're talking about is about 20-30% similar words from another page, whether that page is on your website or someone else's.
So, if you use a template for your service or product pages, you'll need to check each one against each other to ensure you have changed enough of the page.
If you hire someone cheap to write for you, you need to make sure they're not just copying someone else's stuff.
How do you do that?
Checking for Duplicate Content
It's really quite easy. There are a few steps:
Put your home page into Siteliner. Siteliner will tell you the percentage of duplicate content you have on each indexable page of your site versus all the other pages. You can use Siteliner to see exactly which words and phrases are copied or you can use CopyScape.
Put any specific pages created for you by a freelancer into CopyScape. This site will check a particular page against much of the internet. It's not perfect, but it's easier than doing it yourself.
Use the CopyScape Comparison tool to see exactly what is the same on any two pages on the internet. This tool is easier to use than Siteliner's, in my opinion, and will let you work through a page making enough changes to lower your percentages next time you check your site through Siteliner.
That's all you need to do. I suggest doing these steps before you launch your site initially and then running step 2 every time you purchase a piece of content from someone. Any time you add more pages yourself, you should run step 1.
A Beginner's Checklist for Putting Your Practice Online
You've decided to take the plunge: to launch a website and finally, at long last, put your practice on the internet. But it's not as easy as just hiring a developer and poof, you get new clients.
So here are some basic things to think about when putting your practice's site online:
Is your contact information (phone, address, email, etc) clearly visible on your site? Is your phone number on all your webpages?
Are all your webpages necessary for your practice? Do you really need that "our story" page and that testimonial page?
Is all your content unique? (Google ignores pages that are too similar to other webpages.)
Do you have an xml sitemap?
Is your site indexable? Sometimes, developers deny access to search engine robots during development. Make sure the robots can crawl your site!
Is your site healthy? (I.e. are there any crawl errors? Are they serious?)
Do you have a Google Business page? (Or, if you're shy, do you have a Google Brand page?)
Print off this handy reference: launch-your-website-checklist
These are just a few basic things keep in mind when you launch your first website. If you have covered all these bases, you should be okay to move on to the next step, launching your Pay Per Click campaign, or your other marketing efforts.
Who Visits My Site? Website Traffic
Every single time a computer visits your site, that visit is tracked in your site logs. But site logs are awful to look at; the log is a list of IP addresses and, if you have a busy site, that list can be incredibly long. So your logs are painful to read but they also only give you a recent portrait – you can't look at your traffic over the course of the last year, or what have you, unless you've saved them all. And you certainly can't segment your traffic in any way that lets you analyze it. So you need a program to do that. Fortunately, there's Google Analytics.
There are multiple website traffic programs, but the gold standard and the one that the vast, vast majority of site owners use is Google Analytics. I have written a post about Google Analytics. Also, I have given presentations about Google Analytics specifically geared to small business owners and solopreneurs. If you do not put Google Analytics or an equivalent program on your site, you will never know who visits your site. And therefore you will not be able to effectively market your business online.
Is Google Analytics set up and working on your site?
Recently, one of my clients launched a new site for a program he just recently launched. He was really proud of it and rightly so; it looks beautiful. So he showed it off to a colleague. One of the first things the colleague noticed is that Google Analytics was not installed on the website. This is a great reminder of one of the fundamental lessons for small business owners setting up new sites: your developer does not do SEO and will not set up any tools unless you ask them.
Do I Need Google Analytics?
Yes, yes you do. Unless you either a) don't want to know what traffic is coming to your website or b) have an alternative program that you know and like (and then you wouldn't be reading this post…), then you need Google Analytics. It is a requirement, one of the fundamental requirements of having a website.
If you're not comfortable setting up, your developer should have zero problems setting it up for you. But you must ask your developer to do this. I have launched many websites and in every single case the developer did not set up Analytics until asked, or I did it myself.
More than once I have gotten angry with a developer for not setting up Analytics but later realized that I had never asked him to do so. Once again: Don't assume your developer will set up your Analytics account.
How to Set Up Google Analytics
If you're using wordpress, as most of you are, setting up Analytics is quite simple.
If you are using a different CMS, such as Joomla or Drupal, the process is different but not that much more complicated.
If you are not using a CMS, then it will require a developer.
Using WordPress
Once you are logged in to your site, find "Plugins" on the left-hand side menu. Click on "Installed Plugins."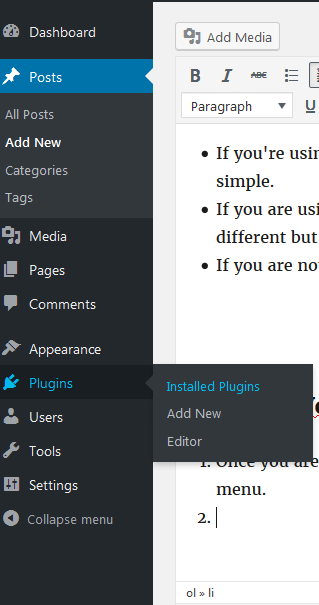 In the search field type in "Google Analytics Dashboard for WP" or some combination of those words. You do not have to pick this plugin; it's just my preferred plugin for Analytics. But it's worth looking at both the installs (800,000 in this case) and the star rating before picking the one that's right for you.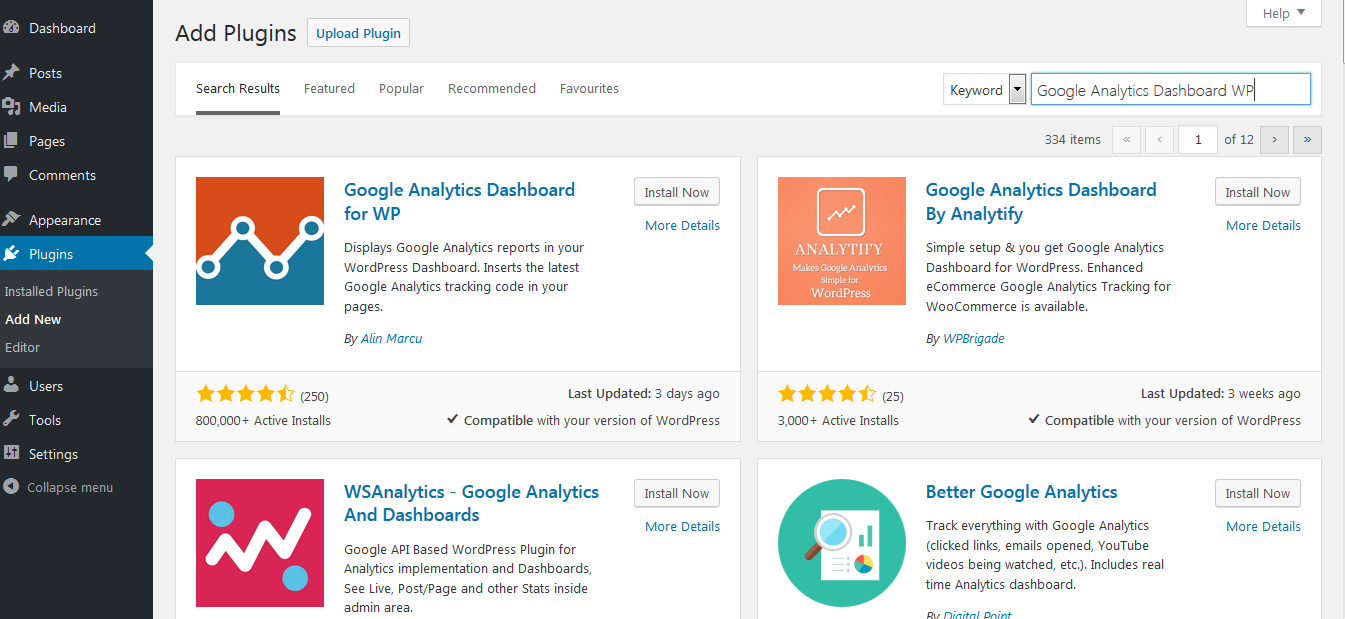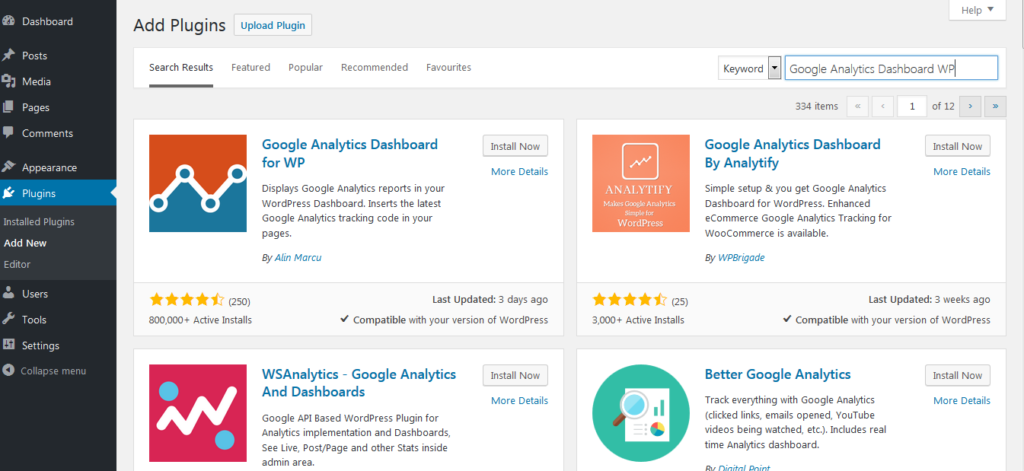 Click "Install" and then "Activate." If you can't activate it from the same screen as you installed it, you will have to go back to "Installed Plugins" to Activate it. How you do this will depend upon which version of WordPress you are using.
Go to analytics.google.com. If you don't already have an Analytics account, you will have to create one, either with a gmail address or with the email address associated with your practice and your website.
Once in the Dashboard, click on "Admin" and then click on "Create New Account" on the left panel of the Admin page.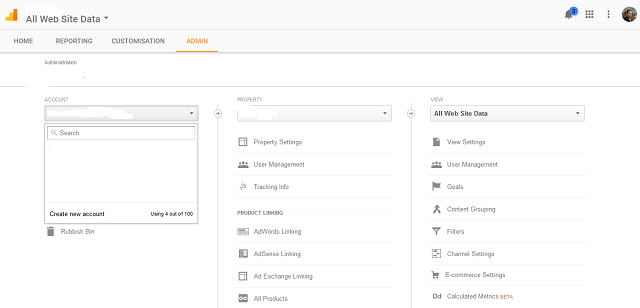 Complete the steps to name your account and property. Don't forget to pick the correct time zone.
Go to the plugin's "Settings" and click "Authorize Plugin"


Paste the code into the appropriate field in the other tab, which should still be open, and save the code. Double check that the UA number is the same in your plugin and your analytics account!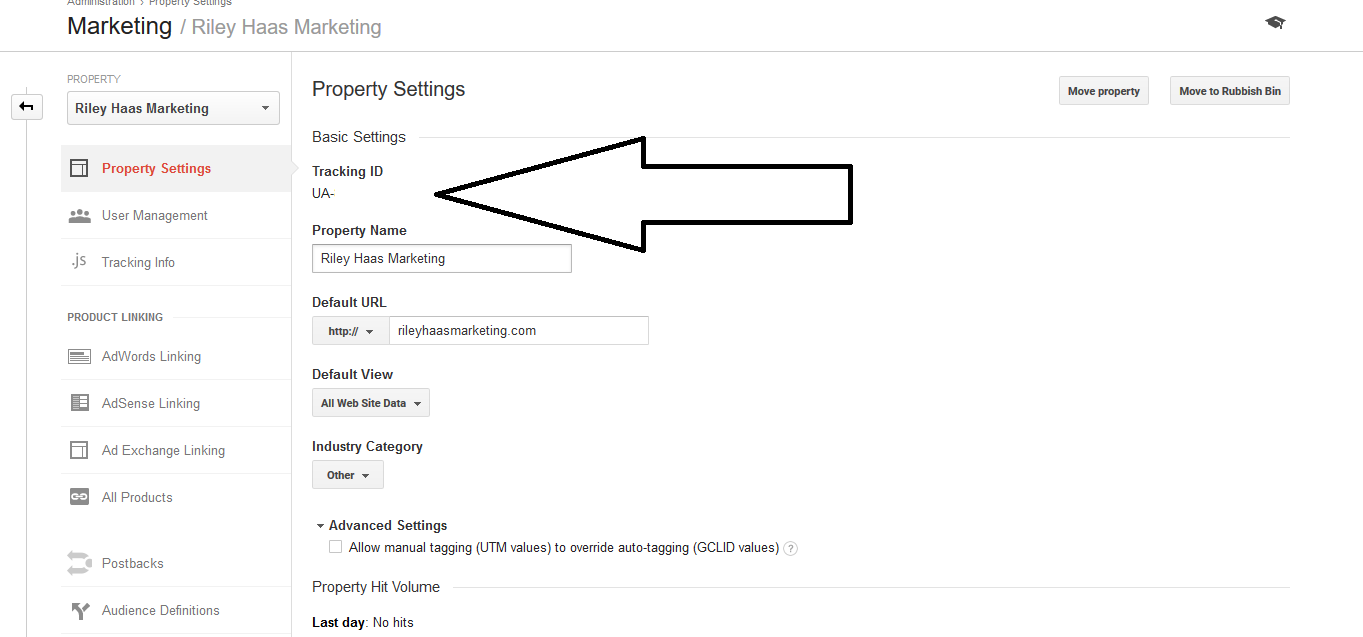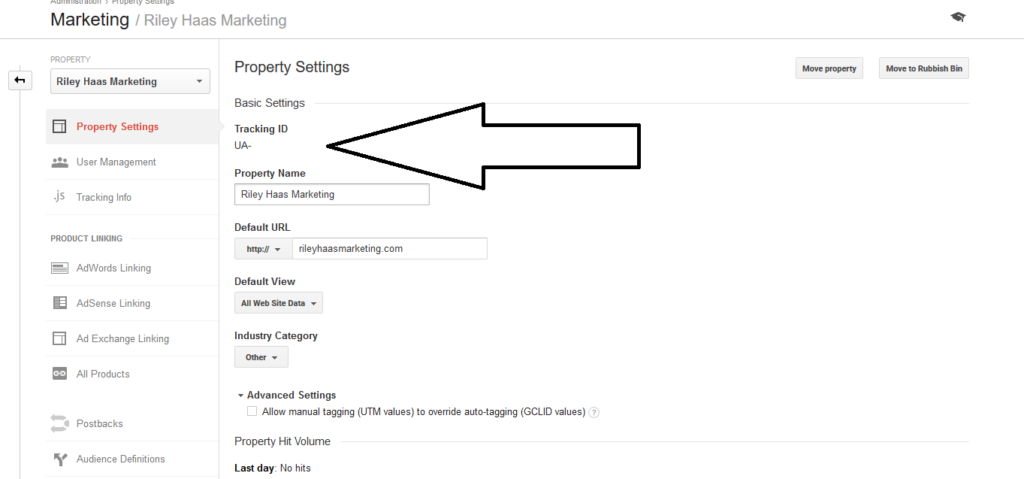 Save changes and you're now tracking your website visits!
(There is more to Analytics, of course.)
How Do I Know if My Site Has Problems
I'm sorry to say that putting a website online is not as simple as uploading it to a server and leaving it there untouched forever. Technology is constantly changing and your site will require updates. If you are using an out-of-the-box site creator, these will be handled for you. But if you are using a CMS, these will need to be done yourself.
Additionally, there could be other problems with your site, unrelated to out of date plugins or themes or code. There could be errors missed when uploading the site, or unforeseen issues that pop up.
The long and the short of it is, you need to be able to diagnose problems on your website whenever you have the time to check. How do you do that?
Checking for Updates
If you are using a CMS (Drupal, Joomla, WordPress), your CMS will tell you about updates when you login to your website. Even if you are never going to add new content, it is a good idea for you or your website to periodically long in to your site to see if there are updates. I'd recommend once a week, at minimum.
If you are using an out-of-the-box site creator most mandatory updates should be handled for you by the service you are using.
If you have a custom built site you will unfortunately need a webmaster on call to discover what you need updated and when. Once again, a custom site is a terrible idea.
Checking for Problems
There are other problems that will arise over the life of your website. Fortunately, most of them that will impact how potential customers find you can be found using Google Search Console (formerly Webmaster Tools). I did a presentation on how to set up a Search Console account in 2017. Using Search Console, you should be able to discover most problems which will affect how people find your website through search engines.
Unfortunately, for typos, you'll just have to read your site content (or have someone else do it).
How to Set Up Google Search Console (Webmaster Tools)
Once you've set up Google Analytics, which will let you see your visitors, you should also set up Google Search Console (which used to be known as Google Webmaster Tools), which will tell you about your site's health, how it complies with Google's requirements for a good site experience, and other information. It seems confusing, but basically think about it this way:
Search Console is for basic site information
Analytics is for site traffic (visitors)
Don't worry! You don't need to a be a webmaster to do this! Once you have your Analytics account set up it's actually quite easy.
Go to google.com/webmaster or webmaster.google.com: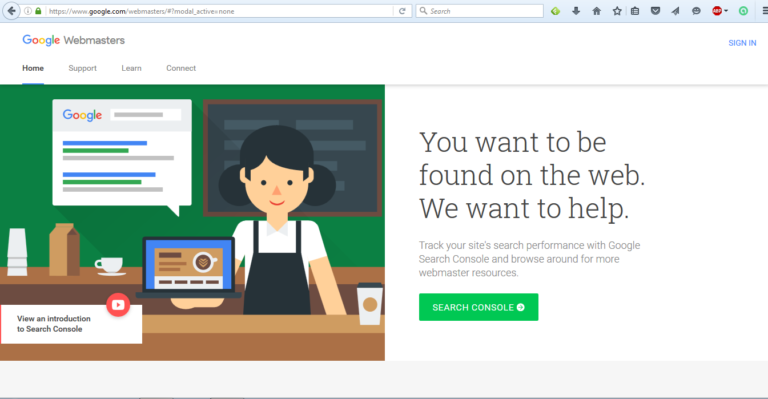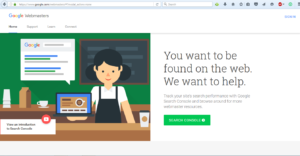 Click on the green button.
Once you are in the console, you want to "Add A Property," which is the red button in the top-right:


Then you put your url in the pop up. Click "Add."
Then you will be asked to verify your account.
The "Recommended method" to verify your account is usually to upload a file to your server.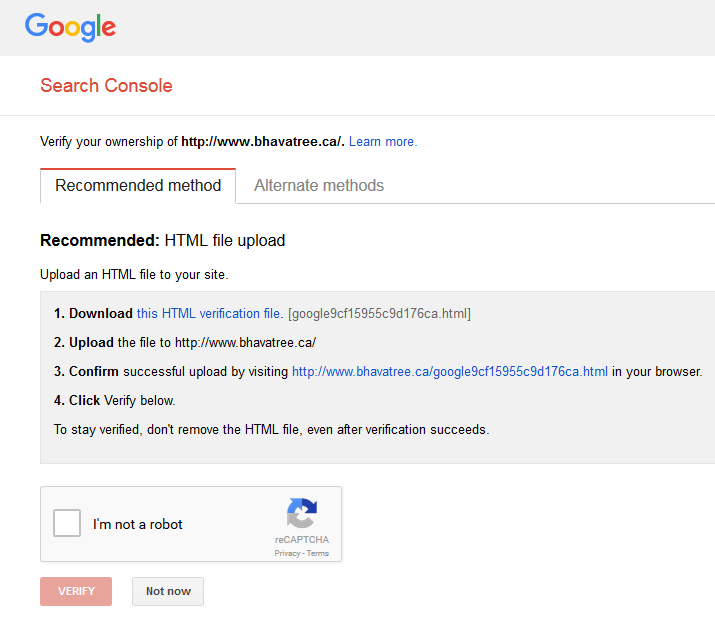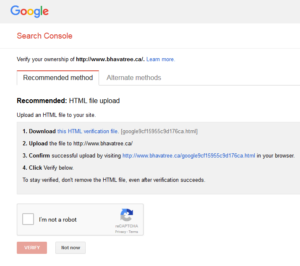 That's not something you'll have to do if your site has already been added to Analytics. Instead, you can click on "Alternate methods":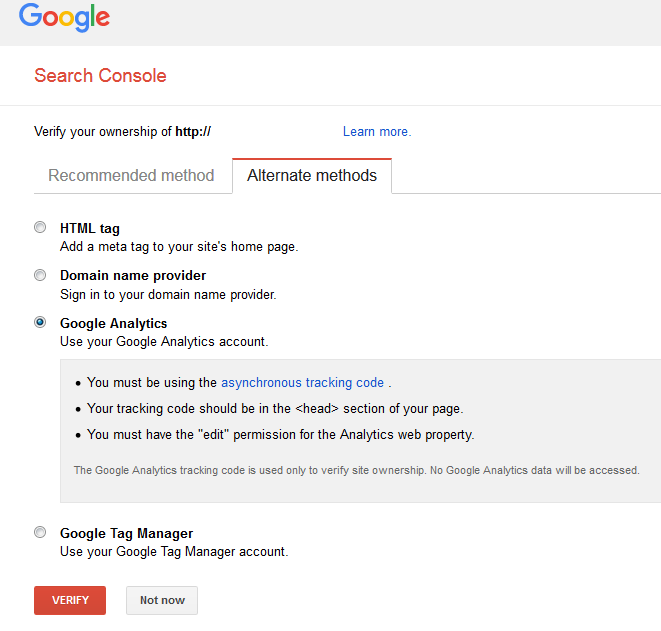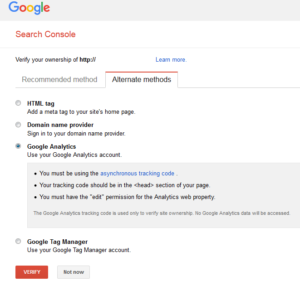 And then once it's verified you will be able to use Search Console to see your site health. Also, Google will email you with suggestions about how to make your site better.
Make Sure Your Site is Mobile Friendly
If there is a desktop version of your site and a mobile version, Google will show the mobile version in search results.
WHAT?!?!
Relax. It might not be the end of the world. If your site is "responsive," that is, if the site adjusts to fit the size of the device, then everything is fine. You don't have to do too much to prepare.
But if your site is not responsive, if it is serving two different versions of the same page, the regular webpage and a special mobile page, you may want to change things.
Is My Site Responsive (i.e. Mobile Friendly)?
How do you know whether or not your site is responsive?
Use a tool like MobileTest.me or mobiReady
Enter one of the urls from your site
If the page displays correctly on all the devices, you're okay.
If not, you might need to speak to a developer.
(Alternatively, you can just visit your site on your smart phone.)
Yay! My Site is Responsive!
If your site is responsive, the next thing to do is to make sure your site is mobile friendly in other ways. What I mean by this is that what worked for desktop doesn't necessarily work for mobile. Google has certain standards for things like page speed (how long it takes for your page to load) that are higher for mobile. You'll need to make sure your site is up to stuff.
You can use mobiReady to get tips, but Google also has a tool. Since Google is the way most people find your site, you should take what this tool tells you seriously. Unless you're very handy with code, you're going to need a developer to make these improvements.
You're already more than half way there, with a responsive site, but you need to make performance upgrades in order to keep pace with everyone else.
Oh no! My site isn't responsive!
If your site is not responsive, meaning that you see different pages displayed on the devices in a mobile test, or you see broken page elements on different devices during the test, you will need a responsive site, eventually.
However, maybe the time to do that isn't now. Maybe you don't have the budget for it. In the meantime,
If your site serves mobile pages (meaning that there are special pages that display to mobile phones and tables, often denoted by /mobile/ or /m/ in the url) then you need to check those pages (all of those pages) to make sure that they are working and that they have the same (or better) content than your regular pages. The mobile pages will be what your users will land on.
If your site doesn't have mobile pages and isn't responsive, you need to figure out which is the better option: temporarily serve mobile pages while you can prepare to go responsive (which means creating a host of new pages and content), or go responsive. Not an easy choice I know, but if you don't do it, you risk eventually dropping out of the search results all together.
I have no idea if my site is responsive or not!
If you are not sure, even after the running the test, you should ask your developer. If you do not have a developer you can get a hold of, you should reach out to someone who can help you.
I am offering a free digital marketing Q and A in January, during which you can ask me about your mobile-friendly questions.
How Do People Find My Website?
here was a time when all you had to do was put up a webpage on the internet and people would find it.
However, that time is long past. As in, decades past. Then time when you can get people to come to your website without doing anything is over. In 2018, you need to attract visitors using a variety of online and offline methods. If you do not do this, you will not get any traffic, unless you have the most niche business, or you have a large, pre-existing clientele who suddenly decide they need to tell other people about your site. (Neither of these things is likely.) So
The Ways People Find Websites
There are only five ways people can find your website, be they potential clients, current or former clients, or total strangers:
Direct Traffic
Referrals
Search Engine Traffic
Paid Traffic
Social Media
That's it. If someone does not find your website through one of these four "channels," they are not getting to your website.
I am going to cover these five channels in separate posts, but here is a brief overview:
Direct Traffic
Someone types in your website url into their browser, or copies and pastes it into their browser. Direct traffic can come from:
typing in your site url that they saw offline
typing in your site url from memory
typing in your site url and it populates in the browser because

they've been there before
it's a really popular website

pasting your site url from an email or a social media post.
(Email links are sometimes considered direct as well.)
Referred Traffic
Traffic that comes by referral comes from links on other websites. (Technically, social media traffic could be considered referred as well.) You can get traffic this way when someone
clicks a link to a page on your site embedded in the text of another webpage
clicks a link to a page on your site embedded in the text of a forum post
clicks a link to a page on your site embedded in the text of a comment on a site or post.
Sometimes, links sent by email (by friends, family, or spammers), are also considered referrals. But these links are more ephemeral, given that they are not available to the public and they are unlikely to generate repeat visits, except in one very specific circumstance.
Search Engine Traffic
Someone finds your site by using Google (or Bing) to find what they are looking for, such as "Digital Marketing Consultant Toronto."
Paid Traffic
You pay for ads, in search (Google, Bing), or in social media (Facebook, Twitter), or on related sites. When a user clicks on the ad, she comes to your site. You pay for the click.
Social Media Traffic
A type of referred traffic, but not as permanent as a link from a website, because of how social media functions.
These are the only ways potential customers will ever find your website. And you can't just rely on search traffic any more. So, what do you do with this information?
How to Get Direct Visits to Your Website
There are are essentially five ways someone can come to your website:
Directly
Through a link (known as a referral)
Through a search engine such as Google or Bing
Through the ads you see on the internet (known as pay-per-click ads)
Through social media.
Direct visits are when the user enters the url of one of the pages of your website into their browser and go directly to your website.
Direct visits are the best visits. Direct traffic, the sum total of all your direct visits, is incredibly valuable. Direct visits are considered the best visits for a simple reason: user intent. The idea is, the person went to the trouble of typing in (or copying and pasting) your url; they must really want to visit your website. Therefore, a high proportion of direct traffic in your total traffic is good for your site (provided your traffic is good).
There are two types of direct visits: real direct visits and referrals posing as direct.
Referral Visits Posing as Direct Visits
One way you can get direct traffic, perhaps the most common way depending upon your site, is by users copying your url from somewhere – a social media post, a website, an email – and pasting it into your browser. This visit is counted as a direct visit even though it's not. The good news is that it's still good traffic.
How to Get Direct Traffic
There are two ways to get direct traffic:
Offline
If your site url is somewhere offline – anywhere offline – and a user types it into their browser, this is a going to be counted as a direct visit. Here are some ways you can get direct traffic:
Url on a business card
Url on a billboard or other public ad or display
Url in the Yellow Pages
Word of mouth.
Online
It's a lot harder to do this online. Basically, direct traffic coming from online only is going to either come from the referrals as direct traffic listed above, or through online word of mouth, i.e. branding.
Making your site well known enough so that people decide they are going to visit it is really hard. Think about whether or not you're ever done this: entered a url you've never been to before because someone online told you to visit this site (without a link) or you otherwise heard about the site.
Basically, it's much better to focus your efforts offline until your company is famous enough (or niche enough) to be famous online.
Referral Traffic (Links)
'Referral Traffic' is the technical name for links to your site. A referral is when someone on another website clicks on a hyperlink to your website and lands on one of your webpages.
Links have formed the basis for determining "trust" on the internet for much of its existence. It was, in part, Google's use of link analysis that allowed Google to revolutionize search engines and dominate the internet.
Though Google has claimed that links play much less of a role in determining search results than they used to, most people in the SEO world strongly suspect or believe that links are basically as important as they've ever been.
The long and the short of it: if you can't get direct traffic, you want referral traffic. It's the second best type of traffic. (Arguably the first in many ways.)
Links send people to your site from other sites
Traffic through links indicates to Google and Bing and others that your site is valuable and trustworthy
How to Get Links
More has been written on how to get links ("link-building") than any other topic in Search Engine Optimization (SEO). There are more guides than any one person could ever read or, probably, count. So I won't give you a guide here, but instead just outline a basic process:
Create something people might want to link to ("content")
Put that content up online
Tell people about it.
Get links.
That's it. It sounds very simple but, because people have been doing this for 20 years, there's a lot of competition, probably even in your niche of your industry.
CREATING CONTENT
Creating content for the internet is a topic in and of itself. So here are just the briefest of guidelines:
It has to be interesting to your potential visitors/clients and to people who might want to link to it
It can be an article but it could also be an embedded or hosted picture ("infographic"), video or audio file, with your business name on it
If the topic has already been covered online – especially if it has been covered online by lots of people – your take on the topic has to be unique and, ideally, better than everyone else's
It should be "evergreen" – i.e. it will remain relevant in the coming months and years
Doesn't sound so easy now, does it?
PUTTING YOUR CONTENT ONLINE
If you've written an article you need to upload it to your site in a way that makes sense with what is already on your website. (If you're a wordpress user: Is it a post or a page?)
If you've made an infographic, you should embed it on your site with some text, but you should also put the infographic on social media with links to its original home
If you've made a video or audio file then there's controversy about where to store it – teach the controversy!!!
I cannot stress enough that, wherever you put it, the content has to be accessible by users and robots.
Because the internet is now quite graphic-driven, as people are visual, written content without graphics is going to struggle, all other things being equal, so having some graphics is a big plus.
Your content should be added to your sitemaps and, if it's a page rather than a post, it should also be added to your homepage or wherever your directory of pages is.
TELLING PEOPLE ABOUT YOUR CONTENT
The process of letting people know about your new content is part of "content marketing" – using your content to drive sales – but also part of link-building.
The easiest way of telling people about your content is posting it to social media. This won't help with links unless you get lucky.  In this case, getting lucky means:
Your content is shared tons of times (goes viral) and the likes and shares keep it prominent in social media feeds, causing your post(s) to, in essence, be a link to your site
Someone sees your post and decides to write about your content, creating a link on their site
If you have a newsletter, this is a relatively simple way of telling people who already know your business about your content, though it won't help with links unless those in your newsletter list have sites of their own, or they share your newsletter with people who do, and those site owners choose to link to your post.
If you are a member of a forum related to your business, and that forum allows commercial posts, you can post links to your content in the forum, following the forum's guidelines. This is an actual permanent link, so it's better than the above two options.
Depending upon the type of content, you may be able to post it on certain other sites that fall somewhere between forums and social media (Reddit for example) or in a directory-type site which compiles links to content like yours. You may have to ask for permission depending upon the site's policies.
But none of this is really going to get you links quickly, unless something you created goes viral (or you're followed by people who really want to link to your stuff).
SO HOW DO YOU GET LINKS?
As I said, there are link-building guides everywhere – many of which are much better than anything I can tell you – but the short answer is: you ask for them.
You make a list of websites you think would be interested in linking to you. You do that by:

Searching your keywords for your content and finding non-competitors who might be interested in your content
Seeing who links to your competitors
Finding broken links on sites related to your business.
Advanced Strategies: https://gaps.com/advanced-link-building/

And then you contact those websites and ask them to link to you.:

You ask webmasters if they would be interested in linking to you
You ask webmasters with broken links if they would like to replace their broken links with your content
You ask webmasters (if you're really brazen) if they wouldn't want to link to your content instead of your competitor's (your content must be better to do this!)
It's time-consuming and disheartening but it works much better than posting your content on facebook and hoping that someone who sees it will write a post on their site linking to you content.
Moz's list of Stupid Myths About Link Building
Search Traffic
For most websites, the most important source of traffic is through search engines, the biggest of which is Google. Because Google results in such a high percentage of worldwide searches, most people have decided to prioritize attracting search traffic through Google. The assumption is that tactics to attract visitors through Google will be effective with Bing and other lesser search engines.
The way to attract visitors through search engines is called Search Engine Optimization aka SEO
SEO is a buzzword but it actually means something: improving your website so that more visitors come to your website. There are two types of SEO:
non-technical SEO, that anyone with time and patience can do themselves
technical SEO, which requires a developer, i.e. someone who understands and can edit html, php, css, etc
I go into detail about SEO on this page.
Searches from mobile phones constitute over 50% of total searches as of 2017. Tablet searches are also greater than they used to be. Because of this, I cover SEO for mobile phones on this page.
Local SEO
If you run a small business, one advantage you may be able to take within SEO is to focus on your local business area. There are a number of tactics you can use to dominate local search results but an important aspect is a Google Business Page.
What the hell is SEO?
Search Engine Optimization (SEO)
SEO stands for Search Engine Optimization. It's online marketing jargon for a category of things that a site owner can do to make their site perform better online, all other things being equal (and they're not).
But so often SEO is treated like some kind of mystical spirit. I cannot tell you the number of times I have heard a business owner say "I need SEO" or "I need my SEO to be better" or, more honestly, "What the hell is SEO, anyway?" I've even heard people within the online marketing industry use the term in such a way that I wasn't sure they knew what it means. And that's okay because it's not something most people know the definition of.
Because SEO was one of the earliest acronyms coined to describe online promotion techniques, it has remained the most mysterious. PPC (Pay Per Click) is not mysterious at all: you pay someone (Google, Bing, Facebook) to display your ad. It's simple. Not SEO.
This is because what SEO is has changed over the years, at least in terms of techniques, if not the end goal. And it's also because SEO is not one thing, it's a set of things.
I think the best way of thinking about SEO is by breaking it down into two categories: non-technical SEO and technical SEO.
Non-Technical SEO
When I say "non-technical" what I mean is that anyone can do this kind of SEO. As noted at the top of this post, SEO stands for Search Engine Optimization. The goal is to make your site as appealing as possible to the search engine (principally Google these days), and ideally more appealing than your competition.
There are various ways of doing this but the biggest and most important has always been the use of keywords – words that your potential customer or client is using to search for what you provide.  If I am running a Vietnamese restaurant just outside of Gerard Square mall, I need to think about which keywords I want to use to get people to come to my restaurant. Here are some possibilities off the top of my head:
Vietnamese East End
Vietnamese Gerard Square
Pho East End
Pho Gerard Square
Pho Gerard
Vietnamese Gerard
Etc
In the early days of search engines, you could "stuff" these keywords into the top of the page and rank really high in the search results. (Un)Fortunately, those days are long gone.
But you still need to tell your prospective customers where your Vietnamese restaurant is located, so you need to make sure that the content on your site contains all of these keywords and more while, at the same time, making sure your content is readable, user friendly and answers the questions of your visitors. Google (and Bing) uses a whole host of metrics to determine whether or not people like your site once they find it, so you can't just list off a bunch of keywords and hope for the best.
There are other aspects to non-technical SEO – such as meta-tags, which sound technical but are not – but basically it all amounts to the same thing: showing Google that your site is relevant to a particular group of people.
You can do this yourself. Seriously. (I can show you how.)
Technical SEO
The other side of SEO is the technical side. In this case 'technical' means that it involves working with the code of your site at some level. (Truth be told, there are a few aspects of non-technical SEO that can involve your code, but many CMS have plugins so that you don't have to touch the code.) And that means that you usually need a developer to do this stuff for you.
Basically, technical SEO involves making sure your site complies with the standards set by Google (and Bing, to a much lesser extent) in terms of how your website operates. This includes things like the load time of your site (how long it takes for a page to display to a user) and whether or not your code is following Best Practices. These things need a developer to fix, but you have a ton of free resources online that can tell you what's wrong before you go out and hire developer. So there's some good news.
Pay Per Click
Pay-per-click (PPC) marketing is the industry name for the ads you see on Google and also the ads you see on websites and social media. It's the name for ads on the internet because you as an advertiser pay for the ads when users click on them (never when they do not).
Here are the main types of PPC ads:
Ads on search engines like Google and Bing
Ads on websites
Ads on social media.
As such, pay-per click ads are both a guaranteed way to get traffic and a more efficient way to get traffic than ads in the real world. Why?
Virtually Guaranteed Traffic
If you are not getting (enough) traffic, you can pay for it. Because the internet is gigantic, and is used by billions, it's pretty unlikely that you will set up an ad campaign, no matter how niche, and get zero clicks. Whether your advertise on search engines, on websites or on social media, you will probably get some traffic. (Search engines being the best option.) Whether or not that traffic converts is another story.
More Efficient Than Real World Ads
Provided you are set up to convert the traffic, PPC ads are more efficient than ads in the real world. Why is that?
Say you have a billboard in the real world; you pay for the billboard. With PPC ads, you only pay when someone not only looks at your internet billboard, you pay only when they actually follow that billboard to your virtual storefront. That is a much more specific group of people, as you are only paying for the people who "travel" to your store, not the people who just look at your billboard, nor the people who drive by it and don't even notice it. So you're spending money only when people decide to visit your virtual store. That's much better.
What Could Go Wrong?
Well, as anyone who has ever set up a Google AdWords account can tell you, PPC is expensive. Very, very expensive. Inefficient or poorly designed AdWords campaigns can cost thousands or tens of thousands of dollars a month, and even efficient Adwords campaigns can cost this much, depending on your settings.  Google will just charge you even if your ads are up without you realizing you published them. The same is true for Bing Ads and the social media ads – you must be ready to go "live" with your ads when you set up the campaign, otherwise you are literally throwing money away.
Prepare Before You Advertise
You need to make sure you have a good landing page, which should convert, before you launch your PPC campaign. Don't just use your homepage as the url for your AdWords or AdSense ads.
If you're using social media PPC, you need to have a strategy how to make money off of those ads before you start paying.
Unless you find the dashboard for your ads account super intuitive, it is worth looking into getting help from an expert or getting help from the provider as well. A PPC expert will help you save money and get a better ROI. If you don't know what you're doing, you should hire an expert before you even set up the account.
Is PPC Worth It?
Whether or not PPC is worth your money is a complicated question. A PPC expert will tell you that you should advertise, as will representatives of AdWords, Bing Ads, or any of the other PPC providers. But I won't.
Deciding to spend your advertising money on PPC is a huge, expensive decision which could lead to much bigger profits or huge losses. Whether or not PPC makes sense for your business depends upon what your business is. If you are selling $15 t-shirts enshrining current internet memes, PPC may make sense. If you are offering a complicated, expensive service, it's hard to imagine why PPC would make sense.
So what's the short version? If your product or service is affordable, there is a low threshold for the customer to buy, it or it's an impulse buy, PPC is a great option to improve your sales. However, if you need to convince your potential clients over time, PPC makes basically zero sense.
Still not sure what to do? I can help you decide whether or not to invest in PPC ads. I have years of experience with PPC ad campaigns (for search and for social media) and alternative marketing strategies that have replaced PPC ads or made them irrelevant. Contact me for more information.
Contacts from Clients
A lot of small business owners still imagine that if they get a website online that their phone will start ringing. Though that may have been true in certain niche industries 15 years ago, it's not longer true. Getting the traffic can be really difficult.
But in addition to getting the traffic, you need to make sure you make it easy for your visitors to contact you. So, you need to decide how you want to be contacted.  You should have all your contact information on your Contact page and in your header or your footer. But you should try to emphasize the cway you prefer to be contacted on your page. So if you want people to call you, the emphasis should be on your phone number, not your email address.
Email
Your business email should be on your contact page and your header or your footer. You should only make your email the primary point of contact on your landing pages if it's an email that is checked all the time. Email is certainly the easiest way of of contacting a website, but you should be aware that you will get some spam emails once you put your email address up online.
Fax
Do people still use faxes? This is a good question.
If you have a business fax line, you should include your fax line on your contact page. But don't emphasize your fax number elsewhere unless you need people to fax in something to you. (Then you need to make it clear to them that they need this.)
Phone
Though a lot of younger people prefer using email to contact you, many older people still prefer the phone. You should always have your phone number available to people on your contact page and your header or footer. But you should not emphasize your phone number on your landing page unless you have the ability to answer it. If you do not have the staff to answer your phone during your hours of operation, it's best to emphasize email.
Webforms
Every website should have a contact form on their contact page. But you can have these webforms on any page you want visitors to contact you. There are a number of advantages of webforms over email:
filter out spam
control the information your visitor is providing you.
With a webform, you can get your visitor's phone number and email address and other relevant information the visitor may omit from an email. Here's mine:
Chat App
There are now many chat applications available where a user can chat with your staff directly when they land on your website.
The advantage is that a user is prompted to communicate with you and you can attempt to convert them immediately. But there are a number of potential disadvantages:
You need to staff your chat app, which may not be possible if you are a solopreneur
Chat bots (automate chat apps) are still easily identifiable as robots, which can be off-putting
If you hire a service to run your chat app, chances are they will not know your business
If you do have a real person (staff or service) monitoring your chat app, you should be aware that they will have to deal with spam bots and, unfortunately, the same types of people you find in internet comments sections: they're not serious about your business and they are crass.
Google Business Page
After you create your website, there are few things more fundamental to being found online than having a Google Business or Brand Page.
This video gives basic steps for how to do that for those who are not digital natives.
The Google Brand Page allows users to find your brand and your site through Google's search engine even if your individual pages may not be ranking that well. It also provides a place for customer reviews to display right in the search results, allowing potential clients to learn about your previous successes.
It is an essential part of any small business marketing endeavour.
How to Use Social Media for Your Small Business
Last night we held a webinar about how to use social media for your business. Please have a look:
How to Use Facebook for Your Business
There was a while there when everyone was telling you "You have to get on Facebook." If you asked why, you probably didn't get a very good response. There's a reason for that.
Using Facebook for Your Business
You can use Facebook for your business – for some businesses it makes a lot of sense. But for many, many businesses, investing a lot of time and money into Facebook makes very little sense. Will likes, shares and comments within Facebook really benefit your business?
Before you decide whether or not to spend time with Facebook, you should decide how you want to use it.
3 Ways to Use Facebook For Your Business
There are basically three ways to use Facebook for your business:
Using Facebook as a Person for Your Business
If you are your own brand – for example, you are a therapist – it's possible that you can use Facebook effectively for your business while only using your personal profile.
Upside: You can use Facebook more actively than a business and you can engage with Facebook Friends, and Facebook Friends of Facebook Friends, in ways businesses cannot.
Downside: Your family and your actual friends that you are Facebook Friends with will likely find your constant business promotion annoying.
Basically, you should only use your personal profile for your business if you have no interest in the social aspects of Facebook.
Facebook Business Page
A Facebook Business Page is the official way businesses use Facebook. Every brick-and-mortar business should a Facebook Business Page, brands likely should to, and if your business is a pop-up style, you should definitely have one. The question isn't whether or not to have a Facebook Business Page. Rather, the question is, how much time to devote to it. I have discussed the Facebook Business Page here.
Facebook Ads
Like all pay-per-click (PPC) ads, Facebook ads have both their downside and their upside. Facebook ads are significantly different than search engine and website ads. Customization and targeting are quite different (and arguably superior) but you must ask yourself a simple question: do you really want to pay for Facebook page and post likes? Is there any value in that? For many businesses, there is no value in Facebook ads. It really depends upon how you are using your business page.
I have discussed PPC ads in detail here.
Should You Use Facebook for Your Business?
Not sure whether or not you should use Facebook for your business? I can help. Contact me to discuss the pros and cons of Facebook and other social media for your business.
Facebook Business Page
If you're a small business owner or solopreneur, whether or not you need a Facebook business page to market your business on Facebook depends upon why and how you use Facebook. Facebook business pages can be useful, but they're quite limited in what you can do with them in terms of outreach. So, what do you use Facebook for?
If you have been on Facebook for years, you need a Facebook business page.
If you haven't used Facebook personally, but intend to do so at any time in the future, you need a Facebook business page.
If you are not comfortable "being your brand," then you need a Facebook business page.
However, if you have not used Facebook for social or personal reasons and you are comfortable being your own brand, you shouldn't use a Facebook business page as your principal Facebook marketing strategy.
Facebook was originally intended as a social tool. It is still a social tool, but it is being used increasingly for business. If you have not put up photos, personal posts or expressed personal opinions on Facebook that you might not want associated with your business, then you can use your profile to promote your business, rather than a page. Why would you want to do that?
Well, because a Facebook page is limited in how it can interact with potential customers – someone has to interact with your page before you can contact them. Your profile page is not limited in this way: you can approach new people regardless of whether or not they've ever heard of you (or indicted to Facebook that they're interested in your business). Mind you, you still have to respectful, follow good social media etiquette and not come across as hunting for profits but, provided you do those things, you're in much better shape using your profile to perform outreach, rather than your business page. (Note: you should still have a business page!)
But, if you like Facebook for the connections it allows between your friends and family, or you want to give that a try, using your profile both for personal connections and your business is unwise and I would strongly recommend sticking to a business page if this is how you intend to use Facebook.
Why Not to Use PDFs for Your Content
One of my clients asked me the other day if he should be publishing his blogs as pdf files. I reacted in abject horror which probably shocked him and seemed inexplicable. So I explained myself but we realized that this may not be so obvious to small business owners. I mean, PDFs are really handy, why not use them?
There are many reasons not to use PDFs for your every day content but I will cover two of them in this post: the first is a "user experience" (UX in the lingo) reason, the second is a efficiency/practicality reason for you, the business owner.
Why PDFs are Bad for User Experience (UX)
Have you ever gone to pdf hosted on a website and seen something like this instead of the PDF you wanted to read?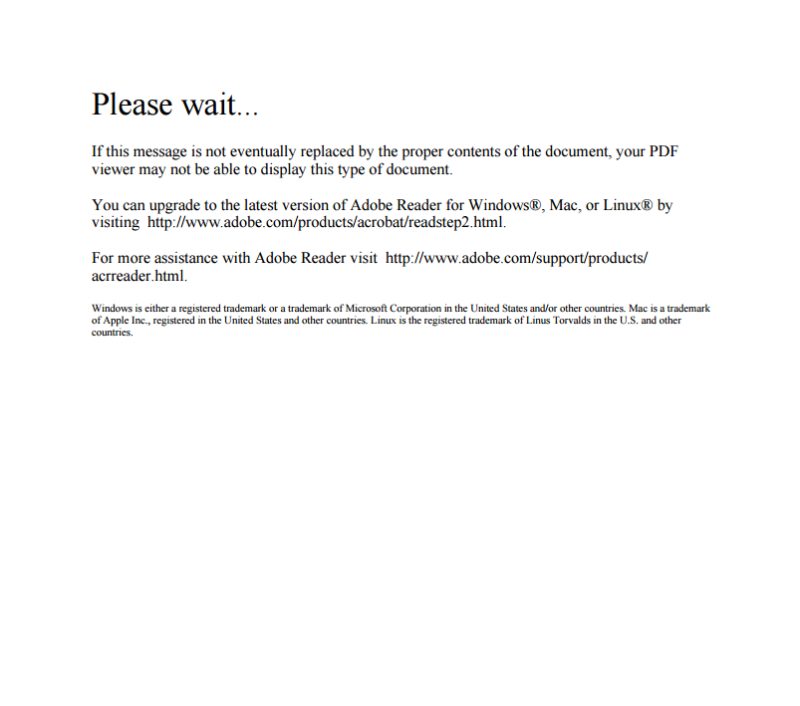 There are many reasons why you might have received these message, but the two most common are a) your Adobe Reader plugin for your browser is not up to date or b) the browser's own PDF reader plugin is out of date or otherwise incompatible with the pdf file you are trying to view. And this happens a lot.
Most internet users over a certain age – probably most internet users in general – and certainly many of your clients will not be able to diagnose this problem and many who will be able to may not care enough about your content to bother dealing with it, they'll just leave. Posting your daily/weekly/monthly update or any other posts you want to share as PDFs will cause at least some percentage of your users (your potential clients) to encounter this problem and so your reach will be considerably less.
It's just not practical to publish short content using PDFs
Using PDFs for "e-books" (and white papers and the like) makes perfect sense – it's the preferred format for browser reading (if anyone does that any more… 🙂 ) and can be read by most (if not all) e-readers in addition to their proprietary formats. The format is good for longform documents you have no intention of editing, and it's good for graphics embedded into longform documents.
But if you're just putting up a couple hundred word or couple thousand word post, I don't see why you'd bother. Especially if you use a CMS, such as WordPress, where you can make edits to your content instantaneously. If you want to edit a PDF, you have to open the source document and republish, and then re-upload it to your server. Why do that when you can just edit your post?
Remember: PDFs are for publishing permanent content that you don't want to edit. Uploading your brochure or menu as a PDF is a fine idea. Spreading information about your latest sale or tonight's special as a PDF is a huge headache and might also keep your users from learning about it.
Using Instagram for your Small Business
Should you use Instagram to market your business online? After all, don't all the kids use it?
Instagram is a unique way of reaching potential and current customers. But, due to its uniquely visual nature, it's not for every business. Yes, it's true, you can post text as a picture on Instagram but if people are going to see that text, they need to follow you. Though you may get followers with text, you get most followers on Instagram visually.
So, you should only put time and effort into Instagram if you can present your products or services visually. If you cannot conceive of a way to visually present your products, your services, or your staff, in a compelling visual manner, it's just not worth it.
Should you use Instagram to market your business online? After all, don't all the kids use it?
Instagram is a unique way of reaching potential and current customers. But, due to its uniquely visual nature, it's not for every business. Yes, it's true, you can post text as a picture on Instagram but if people are going to see that text, they need to follow you. Though you may get followers with text, you get most followers on Instagram visually.
So, you should only put time and effort into Instagram if you can present your products or services visually. If you cannot conceive of a way to visually present your products, your services, or your staff, in a compelling visual manner, it's just not worth it.
Social media takes time. In order to have a successful social media account you need to put in tons of time and effort and you also need to be lucky. If you cannot create compelling visual content for your business, there is no point in wasting resources on Instagram.
Twitter
Should you use Twitter to market your business? After all, isn't everyone on it?
Well, first of all, not that many people are actually on Twitter. Twitter has half as many users as Facebook.
But really, the question of whether or not to use Twitter is really a question of what you intend to use Twitter for and how much time you plan to devote to it.
Do you get lots of customer service inquiries? Then it absolutely makes sense to use Twitter regularly for your business.
Is your business mobile? Then it absolutely makes sense to use Twitter regularly for your business.
But, if you do not have a lot of customer service inquiries, or you don't have tons of updates about your business location or hours, then it's likely that Twitter is not the best way to promote your business.
Unless of course you are your business; you are the face of your brand and more – you are your brand. If this is the case, Twitter is very useful at allowing you to communicate directly to your potential customers/clients.
But be warned: using Twitter effectively is extremely time-consuming. For Twitter to be worth your time, you have to be on it a lot.
YouTube
For a long time, people lumped in YouTube with the other social media networks. This was an odd thing to do because YouTube is extremely different from social media in a couple of ways. Marketing on YouTube can be incredibly effective but it is also expensive and requires a lot of trial and error.
What is YouTube?
This might seem like a silly question, but since people have long referred to it as a social media platform its worth talking about what it really is. YouTube is at least three things:
A video hosting/viewing service
A forum
A search engine
It is all of these things rolled into one. What that means for you, the small business owner, is that you can market on YouTube in at least three different ways:
Video marketing
Social media marketing
Search engine marketing
All of these methods involve cost. It costs a fair amount to make a decent video, though the price can go down over time once you develop a process. (Take it from me, I have supervised a YouTube channel with thousands of videos, tens of thousands of subscribers and millions of views.) The other two ways spending time or money on participating on YouTube, and spending money on ads. Basically, if you're going to use YouTube, you're going to have to spend money.
Is it worth it?
Well, that really depends. You may have heard about people making tons of money on YouTube, but those people are the minority. And the math just doesn't add up for most people; it takes millions of views to generate thousands of dollars and it takes a very long time (and luck) to get to the point where you are getting millions of views. Nearly everything you do in marketing terms on YouTube is internal, meaning that you're usually paying to send someone to a different part of YouTube. This means that most of your efforts on YouTube are more for branding than they are for actual clients. (Getting the clients from YouTube to you is one of the big hurdles with marketing within a network.)
But with the right commitment of money, you can dominate branding among younger clients, and with the right calls to action in your videos, you can get clients to contact you. Successful YouTube campaigns can be very successful. But they will cost a lot.
Social Signals and What They Mean
Everyone tells you that you should use social media for your business. So you start using it, you post some of your content, and maybe some other content you like and…nothing happens. Nobody clicks on your links, your traffic doesn't increase and, worst of all, there are no new sales. What is happening?
Well, to really make use of social media for your business that requires engagement. And engagement requires you to both spend time on social media – rather than just occasionally posting a link – and to interact with people – whether or not they are potential customers – on social media.
Today we're going to look at the basic social signals on four of the biggest social networks and examine what messages they send so you can engage with the right people to both get your content shared more widely and to get leads.
Applause: Likes, Favourites and +1s
What I'm calling "applause" is the most basic level of engagement between a user on a social media website and your content. Applause signals are called different things on different social networks:
Facebook: Like
Google Plus: +1
LinkedIn:
Twitter: Favourite
But they amount the same thing: a social media user has indicated that they like your post. But that's all they have done. If you have included a link, a user "liking" your post does not even indicate they clicked on your link. In fact, many studies have shown that most people who "like" a post with a link on Facebook, for example, do not actually click through to the link.
The positive side of this is that when a Facebook user likes your post, or a Google Plus user gives your post a +1, or a Twitter user favourites your post, that post gets more exposure. When a post is liked, that post appears in the feed of the user who liked it – this is true of all three of the social media networks. What that means is that their friends and contacts – people who you are not necessarily networked with – will see the post, if only for a moment. And the more people who like your post, the more this will happen.
For example: if you post on Facebook and a Facebook friend likes your post, and then a Facebook friend of theirs likes your post, your post will appear in both your Facebook friend's feed and also their friend's feed, albeit briefly.
Recently, Facebook has expanded its "Like" button to include emoticons expressing emotions other than approval, which is good for users and can give you some idea of what users think of your posts. (Google Plus and Twitter have not expanded the meaning of their similar signals.)
The problem is that a like does not guarantee any actual engagement with the post, even if it gets seen in other feeds. Moreover, a like will only get the post to appear briefly in another user's feed and, more often than not, it will be drowned out by other posts.
So a like on Facebook, or a +1 on Google Plus, or a Favourite on Twitter doesn't seem to mean much to you or your business. Sure, it's better than nothing, but this is not what you want. You want actual engagement.
Amplifications: Shares and Retweets
Applause is nice but relatively meaningless. Lots of it is good, little of it is pretty insignificant. What you really want is amplification of your message and your content. Like application, amplification goes by different names on the different social networks:
Facebook: Share
Google Plus: Share
LinkedIn: Share
Twitter: Retweet
As with applause, the names are different by the results are the same. In the case of amplification, a social media user is passing on your post or tweet to others, sometimes with a comment of their own (see below), but often with no comment.
Just like with applause, an amplification exposes your content to more eyes; when someone shares your post or retweets your tweet, that action enters into the feed of the person who shared or retweeted your message just like a like/+1/favourite but, this time, there are two further benefits:
The amplification usually stays in the new feed longer than if the user just applauded your stuff and this becomes even more true if friends of the user applaud the amplification. (For example: If I share your post on Facebook, and my friends like it, that post is hanging around longer than if I just liked your post, or if I shared your post and nobody liked it.)
Second, especially if the person amplified your post comments upon it, this is clearer endorsement of the post than if they applauded it – that's how people and the social network algorithms interpret it, as a clearer indicator that this is something worth checking out.
Studies have shown that many people share links without clicking on them. But you shouldn't find that discouraging. Shares are still better than likes and you should try to get your content shared as much as possible. If you're lucky, you're share could become so big that someone screen caps it and uses it in an article as happens with tweets and the occasional Facebook post. (It never happens with Google Plus posts because nobody uses Google Plus…)
If someone amplifies your content, you should:
follow them, if you haven't already
like/+1/favourite content they share if you actually like it (on Facebook, you can express different non-positive sentiments, as well)
amplify their content if they post or share something you think your followers would appreciate
comment on their posts if you think it's appropriate
private message them only if you think there's potential for something more (this is less of a faux pas on LinkedIn than anywhere else)
Discussion: Comments and replies
The last and best social signal is actual discussion about your post, link or tweet. The most common form for each social network is:
Facebook: Comment
Google Plus: Comment
LinkedIn:
Twitter: Retweet with comment or tweet at you about something you tweeted earlier
Though the feedback will not always be positive, this is the best sign your content is getting attention and discussion will keep your post/tweet in your feed and in the feeds of those who have liked it, commented upon it or shared it for even longer. It will create more exposure for your content than the other signals.
You should respond to every comment/reply. Even if they are negative. You should always be professional in your responses and project the image of your brand that you want the world to see, but you should respond. Responses will engage the initial commenter and possibly others and increase the visibility of your content. (If there is an exception here, it is trolls: if someone is obviously trolling you, especially if the trolling is really inane – "You're inane." etc – then ignore them. But you should only do so if it's obvious to you, and others, that this person is a troll.)
In addition to responding to comments, you should
follow the commenter if you haven't already
like posts of theirs you actually like
share posts of theirs you think your followers would appreciate
comment on other posts of theirs if relevant
private message them if it would be better to discuss whatever it is they are commenting about in private (but indicate on the post you are private messaging them so that it doesn't seem like you ignored the comment)
Bonus: Direct/Personal Messages
The final social signal that you should pay attention to – but which is not necessarily as great because it's not public and, therefore, not social – is the direct or personal message. This can be really positive for your business, because it could be a lead.
But you shouldn't just go around direct messaging just anyone. Direct messaging can be considered a faux pas in some circumstances. Direct message someone only if they have already expressed interest in you or your work.
You can direct message:
Facebook: friends, friends of friends, people you find (don't do this last one!)
Google Plus: no ability to direct message, though you can do so if they have a YouTube channel (and you have one) linked to their Google Plus account
LinkedIn: primary and secondary connections (it's much more socially acceptable to send private messages on LinkedIn than anywhere else)
Twitter: only your followers (so if you want to private message someone, you have to convince them to follow you first!)
So, that's your guide to the basic social signals on some of the most used social networks. I hope you get a good sense of how they work and how to use them. If you have any questions, please comment below or send me an email at riley dot haas at google's mail service.
Content Marketing
Content Marketing is basically the use of "content" – blogs, videos, podcasts, reviews, and other internet content – in lieu of traditional advertizing. This blog post is an example of content marketing – I give you some information for free in the hope that you will not only like the information but come to trust me as an expert and a person you can trust.
Pay Per Click (PPC)
PPC is the most famous kind of digital marketing – it includes both the ads you see when you use Google or Bing, and the banner ads you often see on websites. Think of PPC as the ability to have an online billboard, but have that billboard shown only to people who are looking for words related to your services, and this billboard doesn't stay in one place. Also, you only pay for the billboard if people look at it.
Search Engine Optimization (SEO)
SEO is the basic, ground-floor building block of digital marketing but the industry is jargon-obsessed and so understanding what it is and why you do it can be hard to figure out. The short version is that SEO is all about compliance of your website with the best practices dictated by Google (and Bing, to a lesser extent). That's all it is. It isn't a secret sauce for huge traffic and leads. It can be done well and poorly and the effects of either aren't always apparent. But it is necessary in the long run so that you will get "organic" (i.e. unpaid) search engine traffic to your site. There are both technical and non-technical aspects to SEO, and the technical stuff will require a developer.
Social Media Marketing
The trendiest form of digital marketing is also the most misunderstood (well, outside of SEO) and most time-consuming. You should engage in social media marketing only if your product or service can fit into one or more social networks and you can spend the time to perform it consistently. If you can't do both of those things, there is no point whatsoever.
I will be covering all of these topics in more detail in the future but know that you do not have to rely on referrals. You can become a master of some or all of these marketing techniques which can support your referral marketing efforts going forward.
Email me any time at riley dot haas at gmail dot com or find me on skype at riley dot haas.